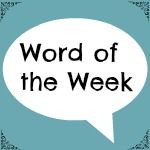 My word of the week this week is:
One-off
Something exciting, amazing and long overdue happened in our house this week.
Grapie SLEPT ALL NIGHT!!!!!!!
Now, I wish my word could be more positive, something like "finally", "amazing" or "breakthrough". But even though she is nearly 18months now, this has never happened before, and it's not looking likely be the start of a new pattern, based on the past few night. Unfortunately.
Oh well. It was good while it lasted!